The Vicar of Dibley 2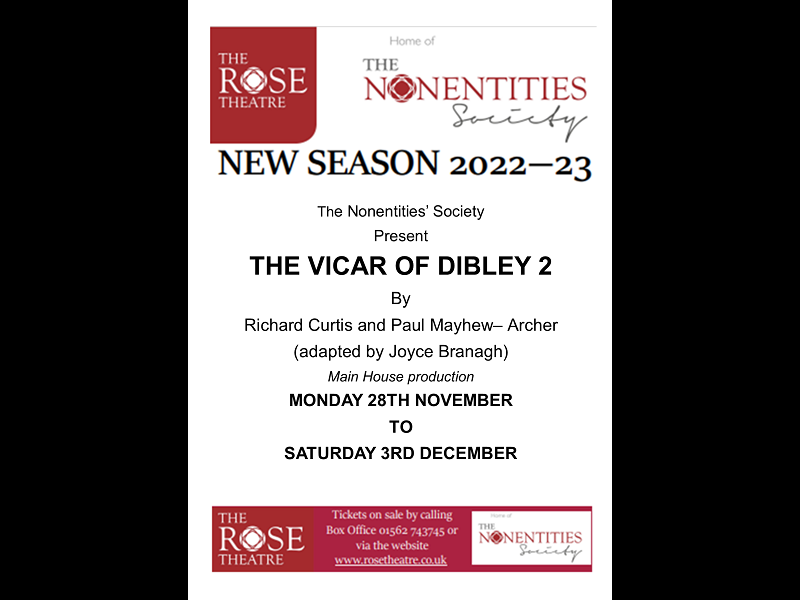 Book Tickets
Click a time to book tickets
About the show
The Vicar of Dibley 2 - A Wholly Holy Christmas
by Richard Curtis and Paul Mayhew-Archer
(adapted by Joyce Branagh)
Produced in association with Tiger Aspect Productions and Comic Relief.
The Nonentities Society – Main House (A)
Having now settled into the village and to mark the millenium, the Reverend Geraldine Granger is looking to put on a Christmas show to mark 2000 years since Jesus' birth.
Who else, other than a pregnant Alice, would come up with the idea of putting on a Christmas nativity play on a real farm.
What could possibly go wrong with that?
Who is the handsome stranger who has just bought a weekend cottage in Dibley?
Is Geraldine at last destined for a holy wholly happy ending?
Not if the villagers of Dibley have anything to do with it.
Monday 28th November to Saturday 3rd December 2022.
Curtain Up: 7:30pm Tickets from £13
(Please note all tickets for this show include a £1 donation to Comic Relief.)