Talking Heads (June 23rd - 26th)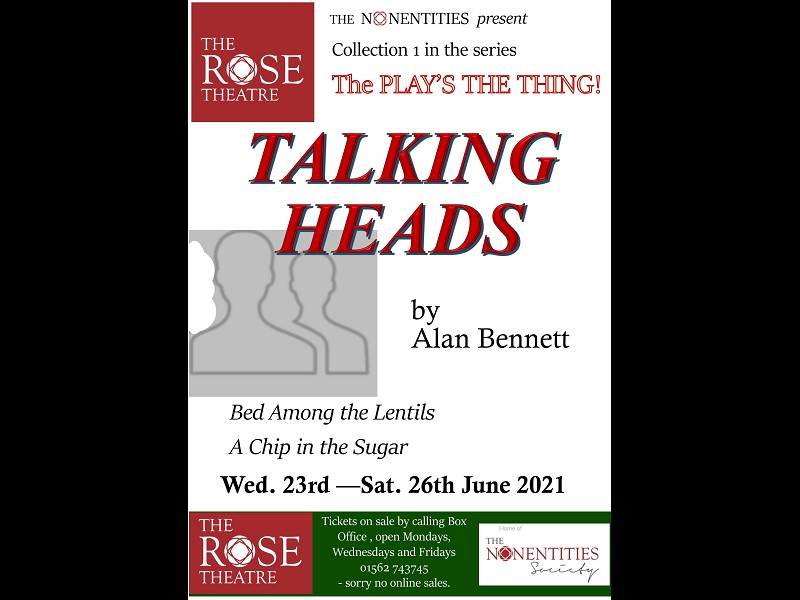 Book Tickets
Click a time to book tickets
About the show
TALKING HEADS
A pair of Alan Bennett's renowned monologues.
BED AMONG THE LENTILS
Susan is a vicar's wife suffocated by the expectations forced on her by her position and her husband's over-zealous parishioners. She is also an alcoholic who travels into Leeds to go to the off-licence because of her debts with the local shopkeeper. In frustration, she embarks on an affair with the off-licence owner, Ramesh, discovering something about herself and God in the process.
A CHIP IN THE SUGAR
Graham, a middle-aged bachelor, emotionally unintelligent and chronically dependent on his mother, finds life difficult enough at the best of times. When Mother meets an old flame and seems set to marry him, Graham's old insecurities rear their ugly heads.
TICKETS ARE AVAILABLE BY TELEPHONE ONLY ON 01562 743745
Temporary box office opening hours will be Mondays, Wednesdays and Fridays (excluding BH) 10:30 – 12:30 and will commence on Monday 24th May.
There are no online sales, so if you cannot call at these times, please leave a message on our answer machine or email admin@rosetheatre.co.uk and one of our volunteers will get back to you.
We do hope that you will come back to see us soon, as with your continued support and encouragement we will thrive once more.