Something Classical (27-30 July)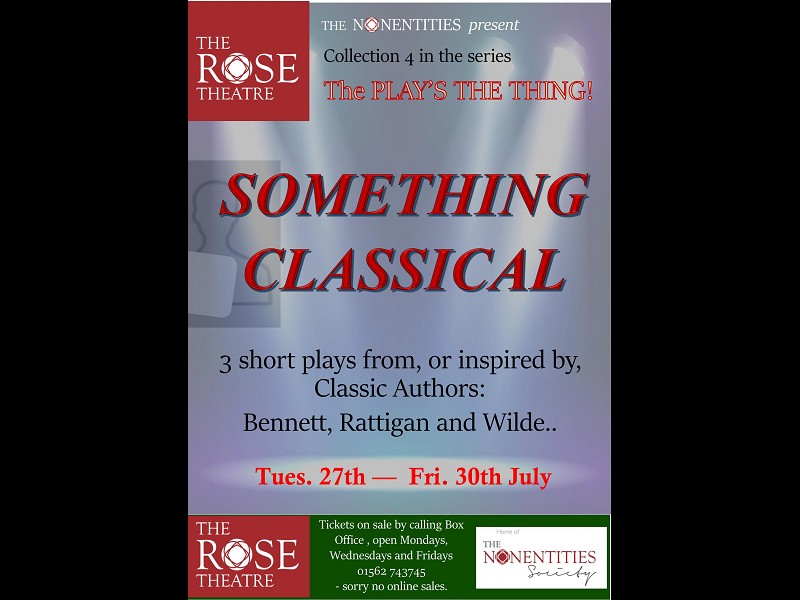 Book Tickets
Click a time to book tickets
About the show
SOMETHING CLASSICAL
Three short plays from, or inspired by, classic authors: Alan Bennett, Terrence Rattigan and Oscar Wilde.
HER BIG CHANCE by Alan Bennett
The third of Alan Bennett's Talking Heads in the short season has us meeting Lesley, an actress. She has just completed a video ("targeted chiefly on West Germany") in which she plays Travis, a career girl who enjoys life, spends a remarkable amount of time topless and shoots a man with a harpoon gun. She tells all, blind to the sinister undertones of her story as well as to her own self-delusions and gullibility.
DUOLOGUE by Terrence Rattigan
Rosemary Hodge is a widow who returns from a party and, a little drunkenly, starts addressing her dead husband Gregory. Through her reflections and recriminations, she comes to a sad realisation about their relationship, her behaviour, and the nature of his death.
LADY BRACKNELL'S CONFINEMENT or THE BUNBURYIST by Paul Doust
Based on the classic "The Importance of Being Earnest", Lady Bracknell's Confinement endeavours to answer the question of "Why is she such an old battleaxe?" and arrives at an altogether surreal conclusion. Witty and engaging and in true Oscar Wilde tradition, this is an engaging theatrical experience with a good sprinkling of humour and pathos.
TICKETS ARE AVAILABLE BY TELEPHONE ONLY ON 01562 743745
Temporary box office opening hours will be Mondays, Wednesdays and Fridays (excluding BH) 10:30 – 12:30 and will commence on Monday 24th May.
There are no online sales, so if you cannot call at these times, please leave a message on our answer machine or email admin@rosetheatre.co.uk and one of our volunteers will get back to you.
We do hope that you will come back to see us soon, as with your continued support and encouragement we will thrive once more.