FRIGHT NIGHT (July 7th - 10th)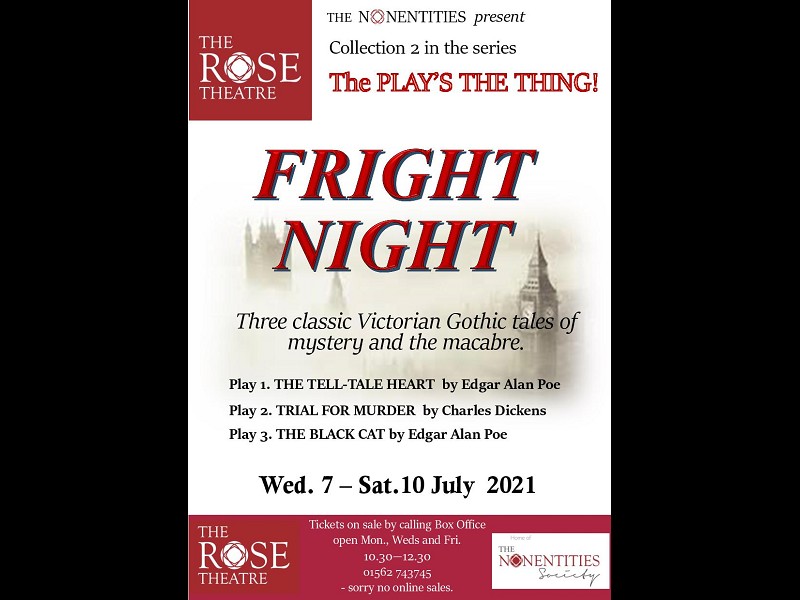 Book Tickets
Click a time to book tickets
About the show
FRIGHT NIGHT
The Nonentities proudly present a trio of classic Victorian Gothis tales of mystery and the macabre by the pens of Edgar Alan Poe and Charles Dickens.
THE TELL-TALE HEART (E.A.Poe)
Turned mad by the sight of his neighbour's eye, the narrator slowly unravels as all his darkest fears and secrets are revealed.
TRIAL FOR MURDER (Dickens)
Considered to be one of Dickens' most chilling pieces, this is the story of a man who experiences the appearence of a ghost of the victim of the defendant in the murder trial upon which he is serving as a juror.
THE BLACK CAT (E.A. Poe)
One of Poe's darkest tales, The Black Cat includes his strongest denunciation of alcohol. The narrator's perverse actions are brought on by his alcoholism - a "disease" and "fiend" which also destroys his personality.
TICKETS ARE AVAILABLE BY TELEPHONE ONLY ON 01562 743745
Temporary box office opening hours will be Mondays, Wednesdays and Fridays (excluding BH) 10:30 – 12:30 and will commence on Monday 24th May.
There are no online sales, so if you cannot call at these times, please leave a message on our answer machine or email admin@rosetheatre.co.uk and one of our volunteers will get back to you.
We do hope that you will come back to see us soon, as with your continued support and encouragement we will thrive once more.