A Slice of Life (14th-17th July)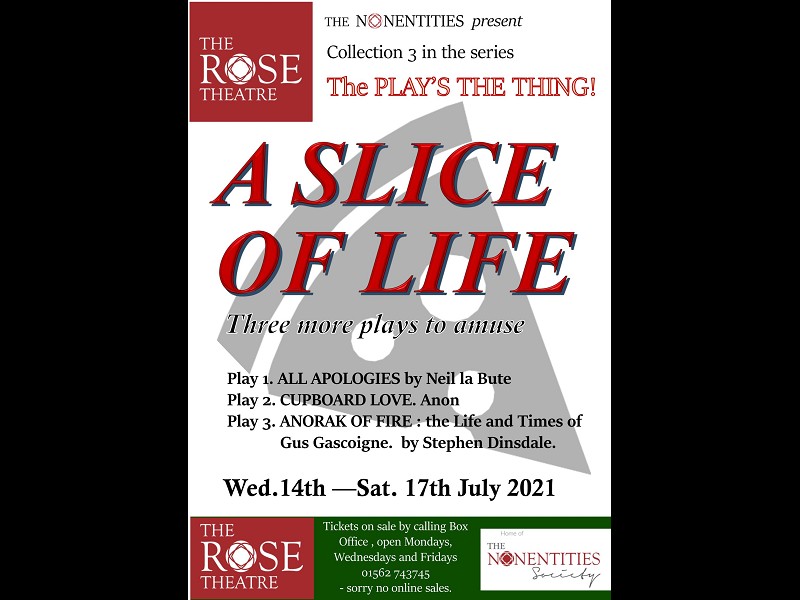 Book Tickets
Click a time to book tickets
About the show
A SLICE OF LIFE
Another trio of plays. This time a little look at the quirkier side of life to bring a smile your face.
ALL APOLOGIES by Neil La Bute
Sorry seems to be the hardest word in this short play in which a man attempts to make up with his wife inside their parked car. Whilst he shares his unusual take on life in his apologies, his wife sits beside him, silent and impervious.
CUPBOARD LOVE (anon)
Locked in together in supermarket storeroom when a fire alarm goes off, two colleagues explore life and each other. A humourous look at awkward situations.
ANORAK OF FIRE: The Life and Times of Gascoigne by Stephen Dinsdale.
"I was born a spotter." Thus we are introduced to Gus Gascoigne, young, spotty, perpetually cheerful and completely bemused by anything that isn't involved with his sole interest - trainspotting. Touching, ironic and consistently hilarious, Anorak of Fire is a guaranteed audience-pleaser.
TICKETS ARE AVAILABLE BY TELEPHONE ONLY ON 01562 743745
Temporary box office opening hours will be Mondays, Wednesdays and Fridays (excluding BH) 10:30 – 12:30 and will commence on Monday 24th May.
There are no online sales, so if you cannot call at these times, please leave a message on our answer machine or email us at admin@rosetheatre.co.uk and one of our volunteers will get back to you.
We do hope that you will come back to see us soon, as with your continued support and encouragement we will thrive once more.
PLEASE NOTE THIS PRODUCTION CONTAINS STRONG LANGUAGE AND ADULT THEMES.